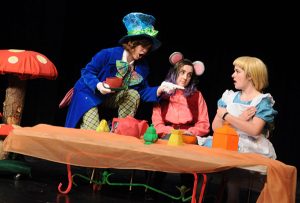 With its eccentric personalities, bizarre locales and zany humour, Brooke Douma knew Alice in Wonderland was the perfect play for the Prince Charles Secondary School Drama Club to perform.
"I wanted to do something more lighthearted," says Douma, who directs the play that runs March 9-11 at Prince Charles Theatre. "It's a big departure for me. I've never really done any fantasy."
The drama teacher's plays, while typically containing some humour, tend toward the serious — such as 2015's Class Dismissed, in which a teacher held students hostage at gunpoint — and usually have minimal sets. Alice in Wonderland, based on the 1865 Lewis Carroll novel, allowed her to bring a bright new look to the stage, as well as help the cast develop some peculiar characters.
"I'm not trying to imitate a specific version," she says. "I'm trying to make all the characters unique to us."
Those characters are brought to life by a cast of about 30, which includes some faces that will be familiar to regular theatregoers. Among them are Anjali Ewing and Zoe Marini — both of whom have competed at Performing Arts BC's provincial festival — who play, respectively, Alice and the Queen of Hearts.
Ewing's theatre experience began in 2007, when she was an orphan and dancing mouse in the Footlighters Theatre Society production of Jack and the Beanstalk. She went on to have supporting roles in The Music Man and The Sound of Music with Footlighters, as well as the PCSS Drama Club productions of Anne Frank and Me and Class Dismissed.
After the smaller parts, Ewing was thrilled at the opportunity to not only have a leading role, but also to get into the mind of the seven-year-old Alice. Having never seen a film adaptation and not reading the book until after rehearsals began, she had no preconceptions about the role.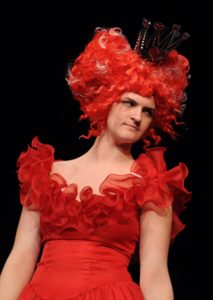 "It's fun to play a little kid too — it's fun to throw tantrums," says the Grade 12 student. "She's super oblivious. She's fallen into this world with all these characters, and all she wants to do is get home."
As with Ewing, Marini also got started on stage playing an orphan in a Footlighters production, the 2011 melodrama The Villain Wore A Dirty Shirt.
"Jesika [Troughton, a former Creston resident] forced me to do it," says Marini with a laugh. "She was like, 'We need more orphans in the show!' "
The Grade 11 student went on to play supporting roles in Annie and other productions, and had a leading part in The Great Ice Cream Scheme in 2015. But with Alice in Wonderland, she was eager for a change of pace, and is relishing her role as the "flamboyantly ridiculous" Queen of Hearts.
"I'm always the heroine or the best friend," says Marini. "She gets to be so rude, and no one gets to say anything back because she'll have them executed.
"Alice says, 'How can I get home again?' and [the Queen] says, 'I don't like your face."
She nearly didn't get to play the villain, though — Douma originally cast Marini as Alice and Ewing as the Queen of Hearts.
"They can both pull those parts off," says Douma.
But something didn't seem quite right, so Douma took each aside and asked what she would prefer. Both wanted the other girl's role.
"It's the first time I've ever really second guessed a casting call," says Douma. "I asked what they had the passion to do and let them do it."
Grade 12 student Des Geddes — who, like her co-stars, has competed in drama at the provincial level — didn't start acting in school productions until 2013's Anne Frank and Me, but her passion began at an early age.
"All through elementary school, we would do readers' theatre, and I really liked it."–—
She's taking on the role of the Mad Hatter, giving her a chance to play a role unlike any other.
"The Mad Hatter is just so extra," says Geddes, who will study theatre at university after graduating from PCSS. "I get to be completely exuberant, and it doesn't get to be too much."
"You can pull back, but we don't want to pull back," adds Douma. "That's what we're striving for — unique characters and over-the-top characterization. That's the beauty of the play — so many fantastical characters."
Brimming with characters so unreal, the play was excellent for this group of students; with just a few boys in the cast (playing parts including the King of Hearts and the frog footman), girls had to take on some unexpected roles, including those of Tweedledee and Tweedledum.
The unique performances are just one facet of the production, which has sets that perfectly bring to life the mysterious and zany world Alice falls into. Designed by Douma and Jason Smith, they include a giant mushroom that will light up, flowers with centres made of cushions and projected backdrops.
Although Douma is the high school drama teacher, the play is completely extracurricular for both her and the students, all of them volunteering their time to rehearse, create costumes and construct sets.
"Working with the kids inspires me, and hopefully does the same for them."
It's a significant and time-consuming undertaking, which is why Douma only produces a play every second year; talent shows and theatre trips are the big events for the years in between.
"The reward is seeing the kids shine on stage," she says.
Douma took piano lessons from an early age, but left that behind when she discovered acting in Grade 7, performing in The Pirates of Penzance, directed by now-retired Adam Robertson Elementary School teacher Frank Goodsir.
"I was nervous, but it was also exhilarating," she says.
She went on to perform in high school musicals, including The Pajama Game, Bye Bye Birdie and Little Shop of Horrors, before heading to university to become a drama teacher. Now, she not only gets to pass on her theatre training, but also the tools to develop life skills and camaraderie.
"Being part of a collaborative production like Alice in Wonderland helps the kids learn and grow," says Douma. "It helps them build confidence and build relationships, as well. Being part of a cast is like being part of a family. The cast forms a special bond together, and makes memories that will last a lifetime."
And it doesn't hurt that everyone has a lot of fun doing it.
"I kind of feel like a kid again getting to do this stuff," says Douma.
Tickets for Alice in Wonderland are available at Creative Fix, Black Bear Books and the Prince Charles Secondary School office, as well as from cast members.