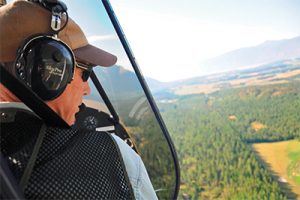 BY BRIAN LAWRENCE
I Love Creston Editor
On a calm, sunny day, there's one place Rod Giles will likely be: soaring over the Creston Valley in his 2010 Quad City Challenger.
"There's a real thrill when you're flying around the mountains and the treetops are just off your wingtip, or when you're flying over a ridge and it just drops away," he says.
The retired school principal took up flying for a second time 12 years ago, more than 30 years after his first lessons in his native New Zealand. He's since found himself comfortably seated at the stick of a Challenger, one of the more affordable ultralight aircraft on the market — and one of the best for taking in the view.
"The visibility with no propeller in front — it's like a helicopter."
Giles dreamed of flying since he was a child. His school was located beside a runway, and one report card said he was "highly distractible" when planes were landing and taking off while spraying fields.
"When I was a kid, I used to look up at the sky and dream about what was going on up there," he says. "I just thought that that would be the coolest job in the world. Every time one crashed, my mother would point out how dangerous it was, and that I couldn't do that."
That didn't stop him from chasing the planes on his Vespa scooter; when he tracked them down, pilots would occasionally offer him a ride. His fascination led Giles to take flying lessons when he was 17, but he left it behind when he went to university to become a teacher.
When he came to Canada in 1978, Giles considered becoming a bush pilot but followed his educational training instead. Flight was still a part of his life, though — his first position as principal was at Peerless Lake, Alta., north of Lesser Slave Lake and accessed frequently by air.
By the time he turned 50, Giles was living in the Creston Valley with his wife and two sons, working as principal at Adam Robertson Elementary School. And that's when he decided it was high time to fly again, the passion he had as a youth still strong.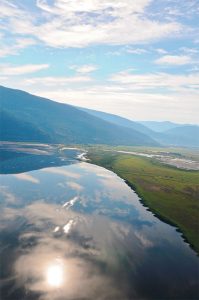 "It doesn't die," says Giles, now 62. "It's terribly addictive. I didn't smoke, I didn't drink, I didn't bet on horses. I flew."
Giles learned to fly Creston Valley pilot Michael Wigen's Cessna Cardinal, and was immediately impressed with the ease of travel within the Kootenays.
"I could do a breakfast meeting in Nelson and be back at school at 9:30."
When the time came to buy his own plane, Giles went in a different direction, opting for one in the ultralight weight class, which Transport Canada defines as one- or two-seat aircraft with launch weights of up to about 544 kg (1,200 pounds).
The Challenger is in a category that allows owners to use parts, such as door latches and carburetors, approved by home-built class standards. Powered by a two-cycle engine, it is also more affordable than larger planes; Giles paid about $24,500, which included upgrades, such as a rocket-powered parachute.
"I was initially very cautious and skeptical about flying behind a two-stroke engine," he says.
But his instructor, Andreas Ruttkiewicz, told him the craft is strong, able to weather a crosswind with the same stability as a Cessna, and encouraged Giles to give it a try. So Giles bought the plane, and flew it from Chilliwack to Creston — and was hooked.
Not only is flying a Challenger relatively inexpensive, about $20/hour in gas, it can be flown more slowly than others, cruising comfortably between 95 and 130 km/h.
"There's a wide envelope," says Giles.
As much as he enjoys flying the Challenger, Giles admits, "I'm kind of lonely with this aircraft."
There are about 600 of them in Canada, but his is the only one in the Creston Valley. Flying one allows the pilot to have an ultralight permit rather than a full pilot's licence, and he's seen used models sold as low as $8,700. If a few people purchased one together, Ruttkiewicz would come to the Creston Valley and stay with Giles to offer a three-week training course — including ground school and highlighting the idiosyncrasies of flying in the valley — to help its owners get their permits. Typically, the training costs $3,000-$5,000, depending on an aspiring pilot's experience and aptitude.
It's easy to see the passion Giles has for flying, and he often shares it with others, giving friends an opportunity to see the Creston Valley from above.
"People don't know where they live. You can tell people are happy to go with you and be a passenger and experience that."
He has many of his own favourite experiences, too, including a time when he flew out of Kamloops around 4:15 p.m., surrounded by snow-covered mountains in a temperature of -20 C.
"Before me, all the mountains transformed to pink. I thought, 'How lucky am I?' "
Then there was the time he flew from Alert Bay, just off Vancouver Island, back to Creston, and felt a sudden sense of appreciation and wonder as the valley opened up below him.
"You just go, 'Ah, this is home.' "
And he'll never tire of seeing osprey and eagles flying alongside him as he flies over the Kootenay River.
"Nobody else saw that today, just me," he says.
As memorable as he finds his local experiences, Giles looks forward to taking it further afield. The Challenger Winter Rendezvous near Montebello, Que., is on his list, as is flying across Canada, once he has amphibious floats installed.
"I don't think I'll ever get over the thrill of flight," he says. "It's a bug. It's a very expensive bug, but it doesn't have to be." •
To learn more, contact Rod Giles at rodgiles7@gmail.com or 250-254-0769, or visit airspeedhigh.com or quadcitychallenger.com.