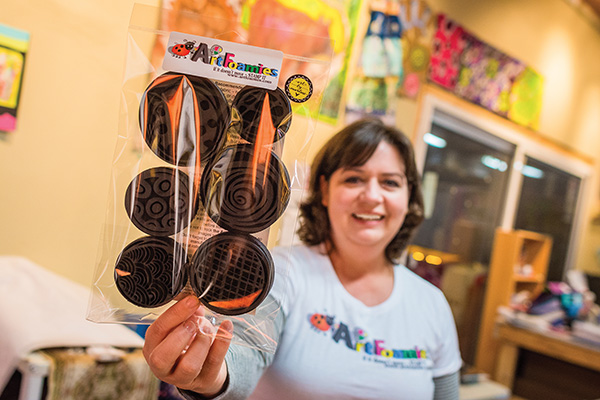 I Love Creston – December 2018 feature
If it doesn't move – stamp it!  That is the slogan for a brilliantly creative home based business based in Creston that sells products all over the world.  Emmie Roelofse is the owner and operator of Art Foamies.
Art Foamies are durable, bold foam stamps designed for stamping images using acrylic paints, ink or glazes.  They can be applied on many surfaces including pre-washed fabrics, card stock, walls, glazed pottery, cork, and wood.  Each stamp comes with a reusable stamp pad that holds the paint and allows for even distribution to ensure a clean, crisp print.
The business, like many successful businesses, had its origin in filling a need of the owner.  Roelofse was working as an artist making painted tablecloths.  "I already did stamping but couldn't find what I wanted.  I realized if I had a problem then other fabric artists would have the same problem", she explained.  A business idea was launched.  After over a year of research and experimenting, she came up with the solution, a product that was firm enough to allow for detailed design, was durable and washable.  "Next, we needed higher production for retail so we designed our own system to make them."
Owning a business was not new to Roelofse.  A 'lifelong entrepreneur" she has owned restaurants, a party supply store, and a bead store before moving to Canada. In Creston, she owned and operated Kootenay Candles and Creston Framing and Art Gallery before this latest endeavor.
The stamp business started in May 2014.  Less than a year later Roelofse was exhibiting her own product at the Association for Creative Industries CHA Show in California (since renamed Creativation).  "It was my dream to have my own product at the show", she beamed. "I first came to the USA (from Africa) at 18 years old with my mom, artist Jenny Steenkamp, to attend the CHA show as a buyer."  The next year Art Foamies finished in the Top 3 hot new products at the show as judged by a panel of North American arts and craft industry leaders.
In the first year, all the designs were created by Roelofse herself.  The stamps featured Canadian animals and plants.  They were being sold primarily online and in select retail stores in North America.  Then, Julie Fei-Fan Balzer, a mixed media painter and collage maker, author, blogger, TV personality, and teacher discovered Art Foamies at a retail store in Quebec.  She contacted Art Foamies about creating patterns for the stamps.  And the business was instantly changed.  With over 40,000 subscribers Balzar promotes her designs on her Youtube channel and on her website.  She describes Art Foamies as, "Awesome high-quality foam stamps.  The way they are made is totally different."
Since then the interest has boomed.  There are over 400 unique designs and new stamps are always being created.  There are nine mixed media artists that create designs for the company.  "There's lots of collaboration" explains Roelofse.  "We now have a design team that creates products and market them and the company on their own social media thru blogs and video tutorials."
Social media is a game changer for the crafter and opens the potential market to a global audience.   In addition to the 100's of Youtube tutorials, the designs are featured on Twitter, Instagram, and Pinterest.  People all over the world can see the product online or used in a course and search for it to make a purchase.  "The best sales are in places where we have designers" cites Roelofse.  "Netherlands, Australia, USA, England and New Zealand are the biggest purchasers.  We also sell all over Europe, in Japan and Brazil."
There are now wholesale locations in four markets (Netherlands, Australia, USA, and England) and over 40 retail locations including Arlington, Texas; New York, New York; St. Petersburgh, Florida, Sydney, Australia; Zwolle, Netherlands; Calgary, Alberta; and St John's, Newfoundland to name a few.  Locally, Art Foamies are available at Creston Card and Stationery.  "Mike was the first store owner to support me.  He is always willing to help" Roelofse says thankfully.
Like any small business the ability to adapt, change and innovate is key to long-term survival.  Differentiate or die, like the book by the same name espouses.  To keep ahead of the competition Art Foamies has launched a subscription box service.  The subscription promises to "take you on a wonderful journey where we will explore a variety of ways to use your ArtFoamies, with different mediums and techniques."  Available in 1 month, 3 month, 6 month and 1-year subscriptions they are packed with value and include exclusive new design foamies, a piece of fabric to stamp (for example a scarf), paint, a paint pattern, and step by step instructions and video on how to use it all.
It is a busy job.  Dealing with stores, designers, constant website updates, shipping, receiving and packaging keep the business hopping. Not to mention actually designing and producing the stamps.  The biggest challenge, besides not being having time to do her own painting, is keeping up with production.  There are two machines currently operating and they are adding a third, bigger, faster, greener machine with improved technology.  To keep up with demand Roelofse and her partner Ian Richardson rely on their two dedicated staff members, Kristina McCormick and Ada L. Oler.
With so much going on with the business it can be a challenge to find work/life balance.  "My better half, Ian, keeps me positive and helps out with all the software and technical aspects.  He accompanies me to shows, too.  I do the demos and he sells."
The biggest reward for turning her passion into a successful business Roelofse says is the "satisfaction of people all over the world loving something I created.  To be creative makes you happy.  Everybody should do art."